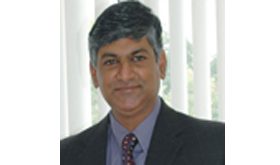 Mr. Thomas Varghese is the Business Head of Domestic Textiles, Overseas Spinning and Acrylic Fiber Businesses of The Aditya Birla Groups Textile Businesses. It comprises of 3 companies in Domestic Textiles, 5 Companies in Overseas Spinning and 2 Companies in Acrylic Fiber businesses.
Mr. Varghese has been with the Aditya Birla Group for the last 15 years holding multiple positions across businesses. He joined Grasim Industries in 1999 as Chief Marketing Officer for Grasim's Pulp & Fiber Business and has been instrumental in leading his team to assume a leadership position in the global VSF scenario.
In 2004 he moved to head the large manufacturing complex of Pulp & Fiber at Harihar in Karnataka. He was also instrumental in VSF's first M&A in China in 2006. In mid-2007 he moved as Business Head of the Pulp Operations in Aditya Birla Group looking after the 5 Units viz. Grasim Industries Limited, Kumarapatnam (Pulp & Fibre Units), AV Cell, Canada; AV Nackawic, Canada & Birla Lao Pulp & Plantations Co., Ltd., Lao PDR.
His last assignment was as MD & CEO of Aditya Birla Retail Limited. As Business Head of Aditya Birla Retail he oversaw the growth of all formats across India. ABRL has within a short span of 4 years emerged as one of India's foremost Supermarket & Hypermarket Retailer.
He has been the Chairman of the CII – National Committee on Retail for 3 years (2009-11) and also a member of Services Council of CII .He is also a member of the Coca Cola Retail Research Council for Eurasia & Africa. He has been the Chairman of the of CII National Committee on Marketing for two years.(2012-14) and again this year i.e 2016. He was the Chairman of CII National Committee on Textiles in 2014-15. He is the current Co-Chair of the Water Cluster Board of the World Business Council for Sustainable Development (WBCSD).
He is also a recipient of the Images Coca-Cola Golden Spoon Award for the "Most Admired Retailer in India (Food &Grocery) 2010". He was also awarded the Images Award for India's "Most Admired Retail Professional of the Year" at IRF, 2010. In Feb. 2012 he was conferred the "CEO of the Year" by the Asian Retail Congress at Mumbai.
An engineering graduate from IIT Delhi and an AMP Harvard Alumni he is a recipient of the Distinguished Alumnus award of the Indian Institute of Technology, New Delhi in 2002.
He is also a recipient of the coveted Aditya Birla Group award of "Outstanding Business Leader" in 2004.
---