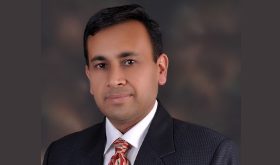 First generation entrepreneur based in Gurgaon, Manu Indrayan is the Co-founder and CEO of 612 League, India's leading kids wear brand for children in the age group of 6 m to 12 years.
Born on 31st December 1970, Manu has studied in 6 cities in different parts of the country, before completing his engineering from BITS, Pilani in 1992 and MBA from IIM Bangalore before joining Arthur Andersen (on campus) for their financial consulting division. He left his lucrative career to pursue his entrepreneurial ambitions and in 1996, launched his first business venture Indian Yarn Limited for manufacturing synthetic yarn.
Recognizing the Indian emerging economic scenario and consumer demand for branded products, Manu launched his second venture with his wife Mohita (an Apparel marketing and merchandising professional from NIFT, Delhi) for manufacture and retail of kids' garments in year 2008.
They immediately launched a brand 612 League, focusing on pre-teen children (in the age group of 6-12 years). Within 6 years of the launch, the brand achieved a formidable retail presence at a Pan India level and is now available at over 460 selling points in more than 130 cities across the country.
With a diversified retail channel portfolio which comprises of Large Format stores (Value & Lifestyle), EBO's, MBO's, E-Retailers and own website, the brand has managed to create an Omni channel presence. The brand has used an innovative approach towards brand building focusing on creating brand assets like 612 Icon, mommy moments, 612 genie etc. and has leveraged modern technology to create 612 wonder store based on augmented reality.
Manu and the entire team at 612 League is working towards a common objective which ensures that the brand is well on track to become the foremost Indian kids wear brand in the next 3 years.
Manu is a multi-faceted person with the ability to absorb and comprehend a wide range of subjects. He is very systems driven and likes to groom his team to take up higher roles. He is an early riser and enjoys listening to and managing music, not only for himself but also for his wife and children. Manu is a very outdoor person; he loves to travel and plays a variety of sports.
---