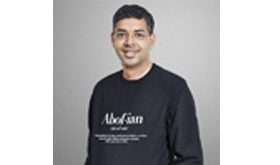 Prashant Gupta is the President and CEO of abof.com. He also leads build out of Aditya Birla Group's overall e-commerce portfolio. He moved into this role in late 2014 and has steered the incubation of abof ground up.
He joined the Aditya Birla Group as the Head of the Chairman's office in January 2011. He played a pivotal role in assisting the Group Chairman, Mr. Kumar Mangalam Birla, on a wide ranging set of performance and health matters across all businesses of the Group, and strengthening the Chairman's office.
Prior to joining the Group, Prashant spent about 12 years at McKinsey, where he was a partner at their Mumbai office. His work cut across many sectors and functions. He worked in Operations area (e.g., supply chain, service operations, design to cost, lean based optimization) to deliver tangible bottom-line impact at marquee clients across manufacturing (e.g., steel, auto) and services (e.g., IT services, telecom, BPO). He has also done significant strategy engagements including global growth for Indian majors, growth within India, and India entry strategy for MNCs. He was on the Business Today's list of Top 40 Executives Under 40.
Prashant earned his B.Tech from IIT Delhi in Computer Science and holds an MBA from IIM Ahmedabad, where he was a Gold medalist.
In his spare time, Prashant likes to play sports (badminton and football) and spend time with his family.
---