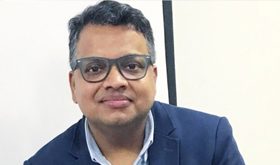 Deepak Chakravarty is an achiever and goal oriented design professional with the drive and ability to work with all levels of an organization so as to integrate his design and visual merchandising skills with the overall business operating strategy.
With an experience of more than 19 years, Deepak Chakravarty is a design graduate from NIFT,New Delhi 98 batch. Having helped create clothes for today's man and woman Deepak was keen to also present his creations in the most inspiring environments. This led to his sojourn into Visual Merchandising an entirely new field and no less creative than designing. VM design, conceptualization and execution are addictive to say the least. Each season bringing in its own set of challenges, inspirations and opportunities. He was heading the design team at ITC'S Lifestyle Retailing Business Division and the visual merchandising teams for the Wills Lifestyle and the John Players brands.
Collaborations with international agencies like Foliomoda London, Elemental designs, London, Liganova, Germany has helped Deepak to a great extent in getting international exposure. Besides, Deepak has led a team of Visual Merchandiser specialists to create consistent flawless, sharp and tailored global VM communication to the stores.
Deepak as a head of visual merchandising for the Bata group, has been handling 1000+ stores and previously with Adidas group he was handling 600+ stores of adidas Sports Centre and adidas Originals. Deepak brings a vast experience in the field of Visual Merchandising with his sharp acumen and understanding of current fashion trends. Deepak is actively involved in the academics, conducting workshops at NIFT, Pearl Academy of Fashion, FDDI, IAM, and as a mentor and jury for the various programmes.
---