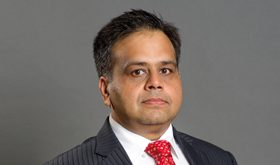 The man who made footwear synonymous with the art of healing.The man who broke marketing barriers to open up new territories.The man who challenged status quo and helped Brand Liberty leapfrog into the future.
A man who by his own admission is a restless spirit who refuses to rest on his laurels.
That's Anupam Bansal.
Equipped with a graduation degree in Economics from Delhi's elite Shriram College of Commerce he went on to acquire a background in footwear designing from ArsSutoria of Italy. Not surprisingly he pursued his strong marketing convictions to usher in new ideas and came to head Liberty as the Executive Director- Retail . His association with the Liberty brand is in his own words 'a journey of personal discovery and professional evolution'.
Anupam believes that 'Change is the only constant' and he remolded the Liberty retail team to keep pace with the newest developments in the marketplace. The way ahead according to him is to attune his sales force to be in sync with the emerging new trends in the market place. And for that he createda strong talent base by making sure the company was able to hire the right kind of sales talent for the company- owned stores. He encouraged and challenged the top performers to better the best. Thereby, he succeeded in ushering in a drive for excellence that percolated down to the level of salespersons.
Anupam also lays a lot of stress on teambuilding as the key to marketing success and so he conducts regular motivational exercises to provide the Partners regular updates on the latest innovative sales strategies that they can adopt to build the most effective rapport with buyers. That's not all.He actually redefined brand-consumer interface by recasting the visual merchandising at all the outlets in the following way:
Displaying products in a creative way.
Using imaginative methods to highlight products.
Changing displays frequently.
Visually designing store with colorful focal points to draw shoppers to those key areas.
Using theme merchandising to send a powerful message that will get customers hooked.
Anupam's penchant to continuously raise the bar added a new proposition to Liberty which evolved from being perceived as a family footwear brand that offered the best value for moneyto becoming a lifestyle brand for those who see themselves as part of the happening set defined by the latest trends, global class and tasteful appreciation of beauty. This association was underlined by the inspiration the brand drew from the works of some of the foremost fashion designers in the country.
Another key move of Anupam has been to build on Liberty's brand synergy with fashion.
When asked to give his take on fashion retail Anupam gave a thumbs up to the premise that fashion is comfort in the following words: 'Today fashion is all about the Feel Good Attitude and those who are able to convey it best to the buyer are the most likely to succeed.'
---