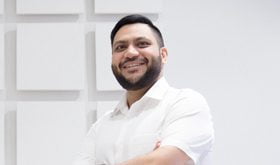 Born on 2nd September 1981, in Chennai, Tamil Nadu to S. Syed Ahamed and Asiya
Katheeja. Father is a well renowned business man, philanthropist and social activist. Mother is a well renowned orator.
Fluent in English and Tamil. Well read in Marketing and Islamic Finance. Specialises in Human Interpersonal Relationships. Practices as a CEO Coach.
Our firm was established in 1925 in Trichy. Our forefathers migrated to Sri Lanka and ran Jewellery Business in Jaffna. Won many International Awards for their excellent manufacturing of Jewellery and quality. Established in Chennai in 1954. At present, we have a jewellery show rooms across the city of Chennai. Hard work – honesty is our motto which has today uplifted us to this highest level. Today, L.K.S. has become a household name in the South. We are manufacturers and dealers in gold, diamond and platinum Jewellery and Silver wares. Apart from serving a very large clientele, we have also supply goods to Tamil Nadu Government, and reputed public limited companies. We are authorised and recognised suppliers of gold Jewellery andmementoes to MRL, MFL, ICI, Sundaram Fasteners, Chennai Telephones, Rane Madras etc. Our firm has created employment and job opportunities for over 2000 persons. We have donated liberally during times of crisis such as National Calamities,International Sport Events, Development of Hospitals, Schools, etc.
---