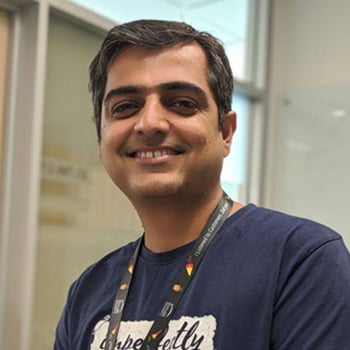 Atul Mehta
Chief Operating Officer (COO), Shiprocket
Atul Mehta is the COO of Shiprocket, India's first automated shipping software that aims to reduce e-commerce shipping to its bare bones. Atul leads the Shiprocket's logistics platform in India and responsible for sales, account management, supply chain operations, customer operations, and seller excellence functions. His key responsibility is to make Shiprocket the most trusted logistics and fulfilment platform for e-commerce sellers.

Atul also works with the founding team to drive innovation and build long-term strategies for the organization. He has over 16 years of experience across P&L management, brand ownership, category management, operations, product, sales, and marketing. He did B. Tech in Chemical Engineering from IIT, Kharagpur and later did PGDM in Marketing Management from Indian Institute of Management, Kolkata.

Throughout the course of his career, Atul has worked with notable organizations in senior positions. He moves to Shiprocket after a four year stint at Amazon where he served as the head of strategic partnerships and new business initiatives and played a pivotal role in scaling the Amazon Pantry from one city to a PAN India program. Prior to this, he has served in a senior leadership role at the multinational consumer goods company Unilever where he led the toothpaste brand Pepsodent for India.

Atul plans to make Shiprocket the leading SME e-commerce fulfilment platform both in India and key international markets. He looks forward to bloster existing operations and aggresively scale the new product offering by the brand.
All Sessions by Atul Mehta
Day 2 – 25th August, Thursday
Day 1 – 24th August, Wednesday
08/24/2022 8:00 am
RETAIL GOES ONLINE: IDENTIFYING THE BUILDING BLOCKS OF ONLINE RETAIL TO MAKE THE LAST MILE A SMOOTH SAIL
PHYGITAL RETAIL CONVENTION
Retail Techway
11/10/2021 10:15 am
PRC 2021
11/10/2021 10:15 am