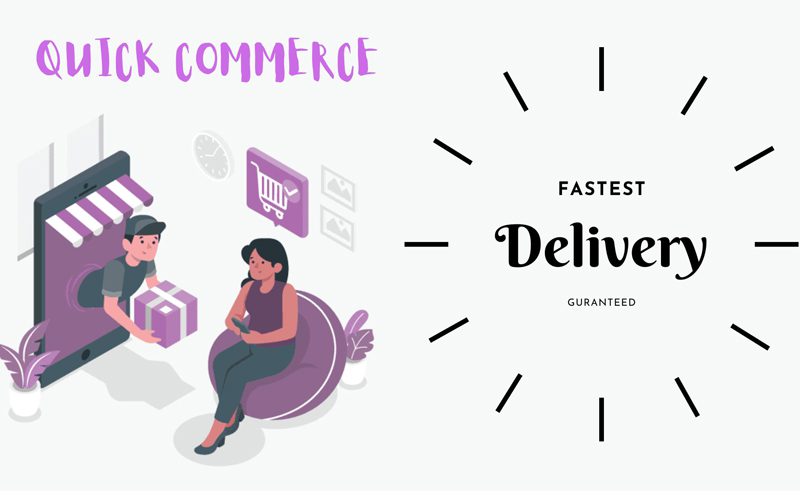 Even as you read this article in (you should be done in under 5 minutes), your order would be halfway to being delivered at your doorstep.
That is how the ecommerce equation has modified itself into an effective, prompt and a fascinating ecommerce model, or in common parlance, 'Quick Commerce'. It was not until 2020, when convenience was redefined through the implications of JUST-IN-TIME delivery model. While we were going through the inconvenience of the pandemic back then, brands like zepto, Dunzo, Bigbasket were reshaping the avenues of convenience for us and making it ULTRACONVENIENT PRO MAX. With the birth of the great idea of Dark Stores in one of the developed countries in the west, in India it was the players of the Last-Mile-Delivery category who took up the idea and implemented it in action. The idea was clear to these brands that for those customers who want a convenient shopping experience albeit being indoors, it was their responsibility to optimize the supply chain in an Indianized manner, and ultimately thus the brands evolved in terms of optimization from two hours to now 10-minute deliveries.
According to a report by Bobble, in the Jan-Mar 2022 quarter, Zepto topped the open rate with 63%, being far greater than Blinkit, Dunzo etc., wherein Dunzo leads with time spent on delivery apps. Recently, there has been some uproar about the quick commerce model, being challenged its efficiency and the involvement of human factor. Despite that, quick commerce is a retail model that offer some economic benefits to retailers. The dark stores used in this model actually resolve some of the biggest warehousing cost challenges faced in traditional ecommerce. They offer quick shopping opportunity, faster delivery, better SKU management on top that better inventory control, thanks to the just in time system.
In spite of the efficient and promising model of Q Commerce, there have been several mixed opinions of experts. Some believe that this model is futuristic and it is going to stay with us for a long time. While others are looking it as an unstable business model, revolving its success around the ongoing uprise in the Indian digital-native startup universe. Whatever the case maybe, the business model has proven itself as an efficient and value providing avenue of ecommerce for the customers. While the jury is out on the intelligence of this model's unit economics, and if it is 'inclusive' and hyperlocal enough to involve the millions of Indian mom-n-pop stores, there is little doubt that retail companies are racing to serve urban (for now) Indians faster and faster.
—— Sayan Mukhopadhyay