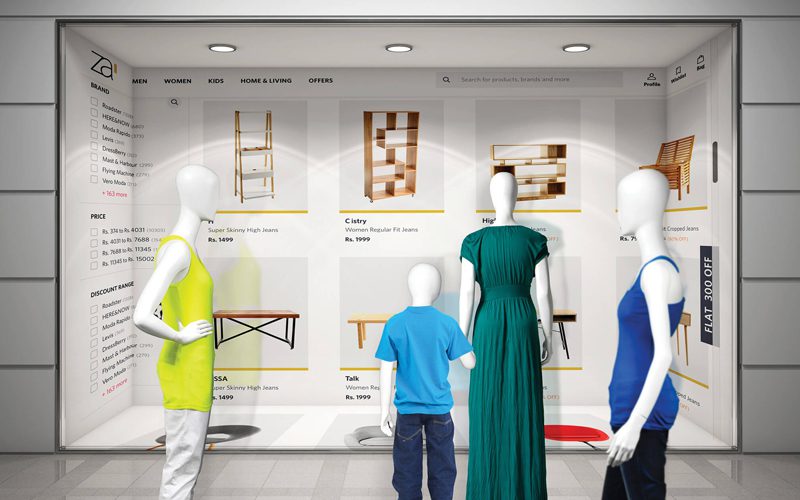 Visual merchandising is not only essential for showcasing the products in-store, but it also conveys the brand story to customers. In India, retailers thus are now gradually inclining toward providing an immersive retail experience to the customers rather than just only providing service or display of the products. Despite the rise of online retailers and the amenities offered by them, it is undeniably a fact that there is no replacement for physical retail stores, at least not in near future. The elements of visual merchandising (VM) include store displays, store layout, store design, graphics, and additional store atmospherics such as interior color, lighting, etc. The elements of VM are supposed to be integrated in a way that harmonizes with the fundamental aspect of the retail store. Visual merchandising aids in the upliftment of the 'feel-good-factor' of any retail store and can provide a better customer experience. It acts as a 'Silent Salesperson' by presenting the right products with the right information to the right customers. With the help of VM customers thus build up their attitude toward the atmosphere that is offered by the retail store and it ultimately leads to sales.
Visual merchandising is now a key asset for the trend of experiential retail or retailtainment, and giving rise to experiential merchandising, where apart from the experiences that are provided in-store, it becomes important how and what products are displayed and promoted instead of being pushy in terms of sales. Also, nowadays it has become a trend where people research about the products before they step inside stores. Hence, information signage has also become a trend where people are informed about complementary products in creative ways. Also, in-store interactive experiences or phygital have become another trend today in VM, where customers are offered an experience that is a blend of digital and physical retail. Also, instagramable displays and the promotion of sustainable retail are also some trends that are being observed nowadays.
With the growth in modern retail, a change is evident in the shopping behavior of Indian customers. With Indian retail's growth in accordance with that of its global counterparts, the need for visual merchandising is key to upping the ante in offline experiences. With higher footfalls and conversation rates being the primary purposes, VM is going to be adopted by every retailer in the near future, as it seems.
–Sayan Mukhopadhyay